Ideas, Entertainment and Activities for a company picnic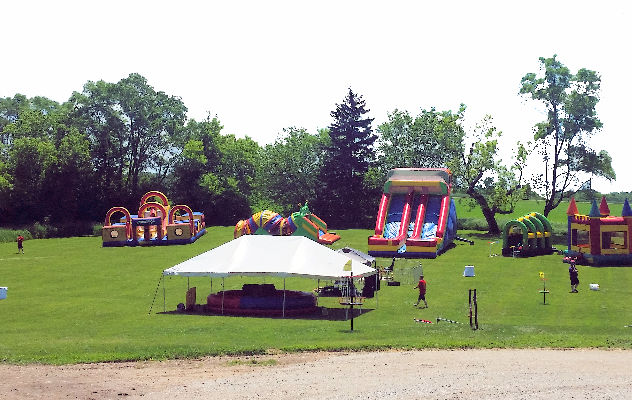 If you are looking for ideas on how to plan the perfect company picnic, then you've come to the right place.  Nothing shows more appreciation to your employees than inviting them and their families to enjoy a beautiful summer day, with amazing food and topped with a whole lot of fun.  If you are the person in charge of planning this extravaganza, then you've already begun the process in the right direction by doing that google search for company picnic ideas.  What's even better is you have found us here at Celebration Authority.  With almost 30 years of experience planning and executing company picnics all over the Chicago land area, nobody even comes close to knowing the things we know.  As that famous saying goes, we know a thing or two because we've seen a thing or two! (bonus points if you know the reference!)
So let's dive in.  What will it take for you to host the best company picnic for your employees and their families…?
Make sure you know your budget.
It's not something many people want to discuss right away, and sometimes you might not have one, or know how to begin creating one.  Other times, a budget may be given to you by a supervisor or boss and you have to do everything you can to stick to that budget.    Knowing what kind of picnic budget you have to work with is a great way to set the wheels in motion.  It will be easier to work with the vendors you choose if you know what you have to spend.
A lot of times, packages can be created to work within a budget.  This is especially true here at Celebration Authority.  It is very rare that you will ever see line item pricing in any of our information.  That's because it will be more cost effective for you if we can create a package to fit within the budget you are working with.  A lot of times you may end up with a lot more bang for the buck this way.  So discuss your budget with your boss, or supervisor, or planning committee before you start shopping around.
Unless this is your first time and you have no idea what to consider when creating a budget. In this sense, it may be a good idea to call around to a few places to get some general pricing ideas so that you can create a budget.  When you are speaking to vendors, be upfront and honest with them.  Tell them you don't have a budget yet, because this is the first time you are doing this and not sure what type of budget is needed. Most, if not all professional picnic companies will be more than happy to help educate you on the type of budget you need for the type of event you are planning.  So what are some must have things you will need to spend money on
A Venue – Whether you are planning to have your picnic in a park, forest preserve, on a beach, at a sports facility, or maybe in your company's parking lot (great $$ saver by the way if that option is feasible), You are absolutely going to need a place to host your picnic
Shelter – If you are planning a picnic, chances are it's going to be outside.  Some sort of shelter like a tent or a space with a pavilion is key to have somewhere for your guests to go and get out of the sun for a bit
Food – Can't have a good picnic without good food.  That's probably one of the most important components to hosting a picnic.  If nothing else happens, at least they get a decent meal.
Entertainment – Make sure your guests have something to do if you want to keep them around after they've eaten.  It can be as simple as one bouncy house, or an entire festival of entertainment, just make sure you have something.
Once you have those ideas set, you can create a budget and start planning.  so what's next?

Choosing your time and location
As mentioned above, knowing where you are going to host your picnic should probably be one of your top priorities.  We have worked with some of the best picnic venues around and have produced amazing events in many locations around Chicago.  Here is a list of types of locations we recommend:
Your own company space.  If your company owns the parking lot, you won't be spending a dime on location, better yet if your facility has a grassy field on it's property, that works even better!
Forest Preserve Groves.  Cook County, Lake County, DuPage County, Kane, Kendall or whatever county you are in, they probably have a few forest preserve locations with some very nice picnic groves. Check them out and see which one would work for you.
Public Parks.  Sometimes public parks like Millennial Park, Independence Grove, or even your local playground may have a space available for private events. Check to see if they have a sheltered pavilion area.  Sometimes at smaller parks you can find the booking information in that shelter.
A Sporting facility.  I'm not talking Wrigley Field or Soldier Field…Unless you have the budget for that, then by all means.  We've done plenty of events in those facilities and they make a huge impact.  What I mean here though is a local football field, baseball or soccer field.  A lot of times park districts or schools may rent out the space, when available, for picnics.
The date and timing of your event could play a big part in choosing your location as well.  At the same rate, you may be dead set on a date and have to find a location that's available for your specific date and time.  If your picnic is to celebrate the company's anniversary or special milestone, you are going to want to make sure you start searching for venues right away.  You may find that some venues are booked months, maybe even years in advance. So if you have a specific date in mind, start searching immediately.  On the other hand, if your date is flexible, you may have a little more freedom in choosing your venue and agreeing on a date that they have available for you.
If the space you are using does not have ample shelter, we have different size tent, table, and chair options to help you set the scene and have space for everyone.
Choosing your food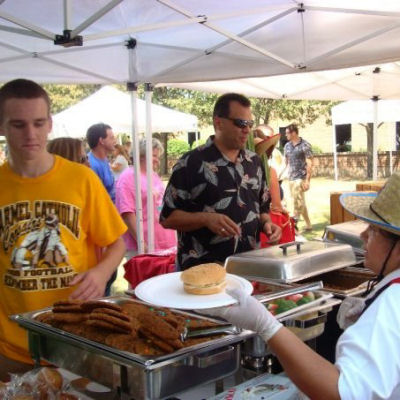 As we've discussed in previous posts, choosing a theme for your picnic may help with choosing your menu.  If you are having a carnival theme, fun foods like cotton candy, snow cones, popcorn, hot dogs, chips, and things like that might work well.  Having a western theme, you might want to go with more of a BBQ option or a latin theme might direct you more to some type of taco or fajita bar.  Be sure to choose easy comfort foods.  A picnic isn't the place for a huge heavy meal.  You don't need to serve steak and lobster, or make it a seven course meal.  In this sense simple is key.  Burgers, Chicken sandwiches, and hot dogs are the easy go to.  The idea is to have maybe 2 or 3 main course options, a couple of side dishes, and a light dessert, like a cookie platter or a novelty ice cream cart.  Be aware of your guests and have some dietary options as well like a veggie burger or some other gluten free options if necessary.  We have some fantastic menu options in our catering department to help with your choices.

On to The Entertainment
Here at Clowning Around & Celebration Authority, we have planned and produced thousands of successful company picnics in Northern Illinois, Indiana, and up through the Milwaukee area of Wisconsin. Over 30 years we have developed a keen sense of what works and what doesn't wow the crowds. Employee appreciation events need exciting and fun company picnic ideas for adults. Family-friendly events, on the other hand, need a good mix of activities for both the young and old. One thing is for certain; you want your guests entertained.
Another great entertainment aspect could be an actual Entertainer.   From a goofy character posing for pictures to a walk around close up magician,  or even a balloon artist or face painter, adding a live entertainer element can definitely enhance your picnic experience.
Our Disc Jockeys and Professional MCs make a fantastic addition to any picnic.  To begin with, they set the soundtrack for your picnic memories.  "Hey remember we heard this song at the picnic last year?"  "Oh yeah that was so much fun, I can't wait until this year's picnic!"  This is just one example of why a DJ can be helpful.  But a DJ is so much more than just a person playing the music so make sure to utilize this entertainer completely.  Having a raffle?  The DJ can help you run it smoothly and make the announcements fun and exciting.  Have a lot of activities planned?  Your DJ can make announcements throughout the day ensuring everyone knows what's happening.  A lot of DJs (especially our DJs) also provide fun games and activities for both the adults and kids to participate in.  This adds an amazing level of fun and excitement.
Some fun company picnic games and activities may be:
If you need more help planning your celebration, please don't hesitate to call our extremely knowledgeable picnic coordinators.  When you plan your next company picnic with Celebration Authority, it's sure to be a spectacular experience your staff and their families will talk about for months. We know that coming up with unique company picnic ideas can be hard, but showing your employees a great time shouldn't be. Clowning Around & Celebration Authority's picnic specialists can work with you to create an unforgettable experience. To speak to one of our friendly picnic planners, contact us today.